Synershield Z: Nutrition for a healthy body with power of CoQ10
Health and Energy are the two factors which define the healthy state of our body and its immunity. It plays a vital role in our fitness and good quality of life. But, over the years our lifestyle have become very irregular due to work pressure and overall fast pace life, resulting into compromising the health, loss of energy, due to poor diet, irregular timings at work etc. In order to compensate the nutritional balance and stay energy, Troikaa Nutrasciences Research and Development, innovated a dietary/health supplement to maintain a healthy and energetic body.
Synershield Z is a daily nutritional supplement for good health and energetic body. Synershieldz helps in keeping your body healthy because it contains unique scientific combination of 3 powerful antioxidant which protects your body from infections by increasing your immunity. These three powerful antioxidants are Curcumin, Vitamin C and Coenzyme Q10.
Synershield Z provides other vital and essential nutritional supplements which play a key role in maintaining an overall healthy body. These are Zinc and Vitamin D3.
Coenzyme Q10 has multiple health benefits for the human body. Apart from being an antioxidant, it is also an important enzyme for generating energy in each and every cell of a human body. Hence, supplementing CoQ10 which results into boosting of energy levels in body making you feel energetic and active.
Synershield Z offers the power of 5 ingredients in 1 tablet which makes it economical in use and convenient as well as you don't need to take multiple tablets for the same benefits.
Dosage:
It is suggested to take a daily dose regularly as per recommended usage for best results. It helps managing good health, helps increases energy, helps strengthen your immunity, and reduces the risk of respiratory ailments.
Click here...
Antioxidants & ORAC Value
Product Details
Key Ingredients: Curcumin, Coenzyme Q10 and Vitamin C, Zinc and Vitamin D3
| | |
| --- | --- |
| Curcumin | Antioxidant | Antiseptic | Anti-inflammatory | Reduces the risk of cancer and other diseases |
| Coenzyme Q10 | Master Antioxidant | An effective Energy supplement that boosts energy levels naturally I Powerful antioxidant for the lung cells I Reduces the risk of respiratory diseases |
| Vitamin - C | An essential antioxidant and a natural immune booster I Helps I immune system function properly I Helps heal the wounds I Helps produce collagen – a protein that keeps the structure of the body together |
| Zinc | Strengthens immune system | Helps heal wounds | Helps in protein and DNA synthesis |
| Vitamin D3 | Enhances immunity | Reduces risk of infection | Essential for development and maintenance of bones |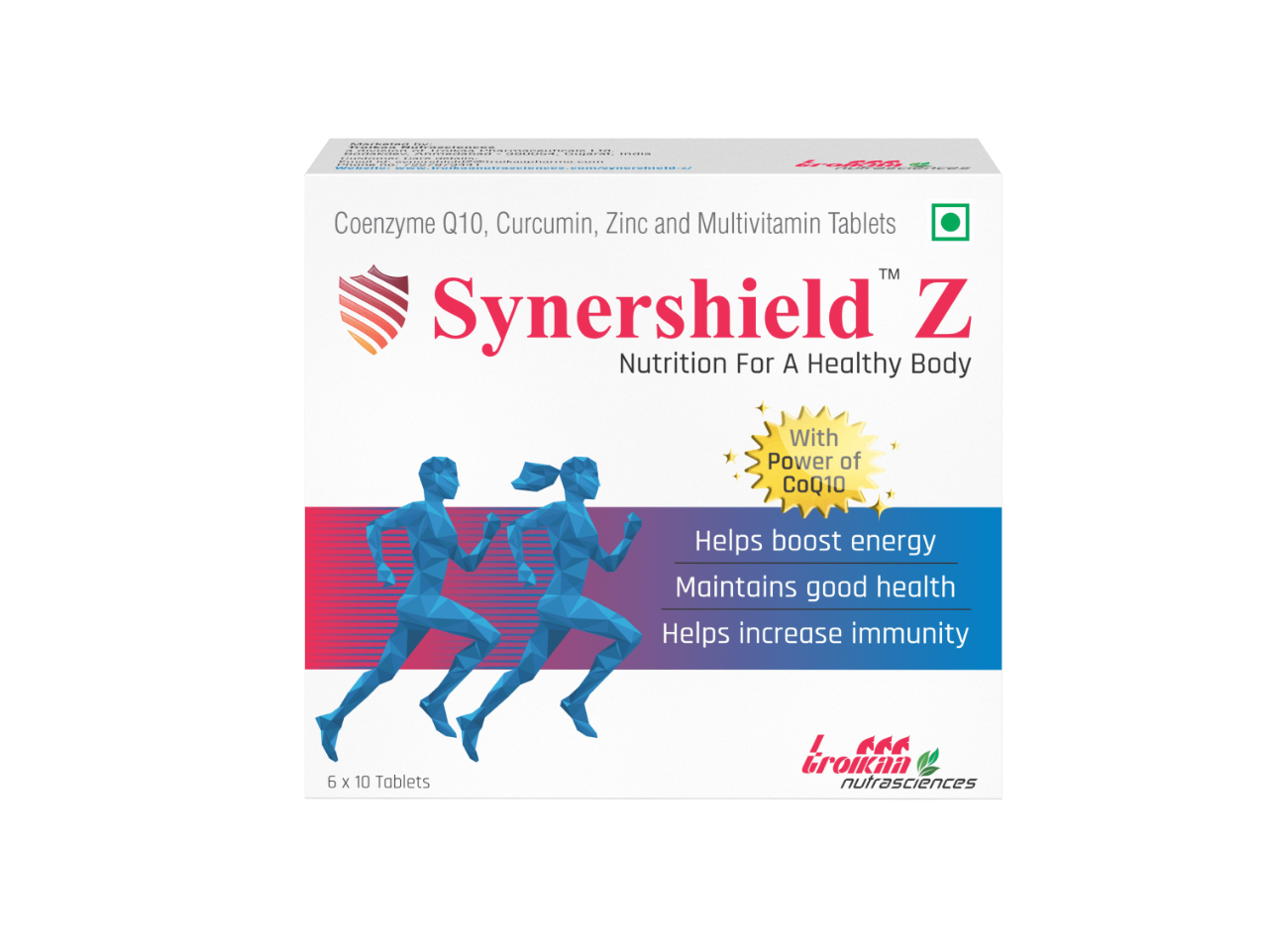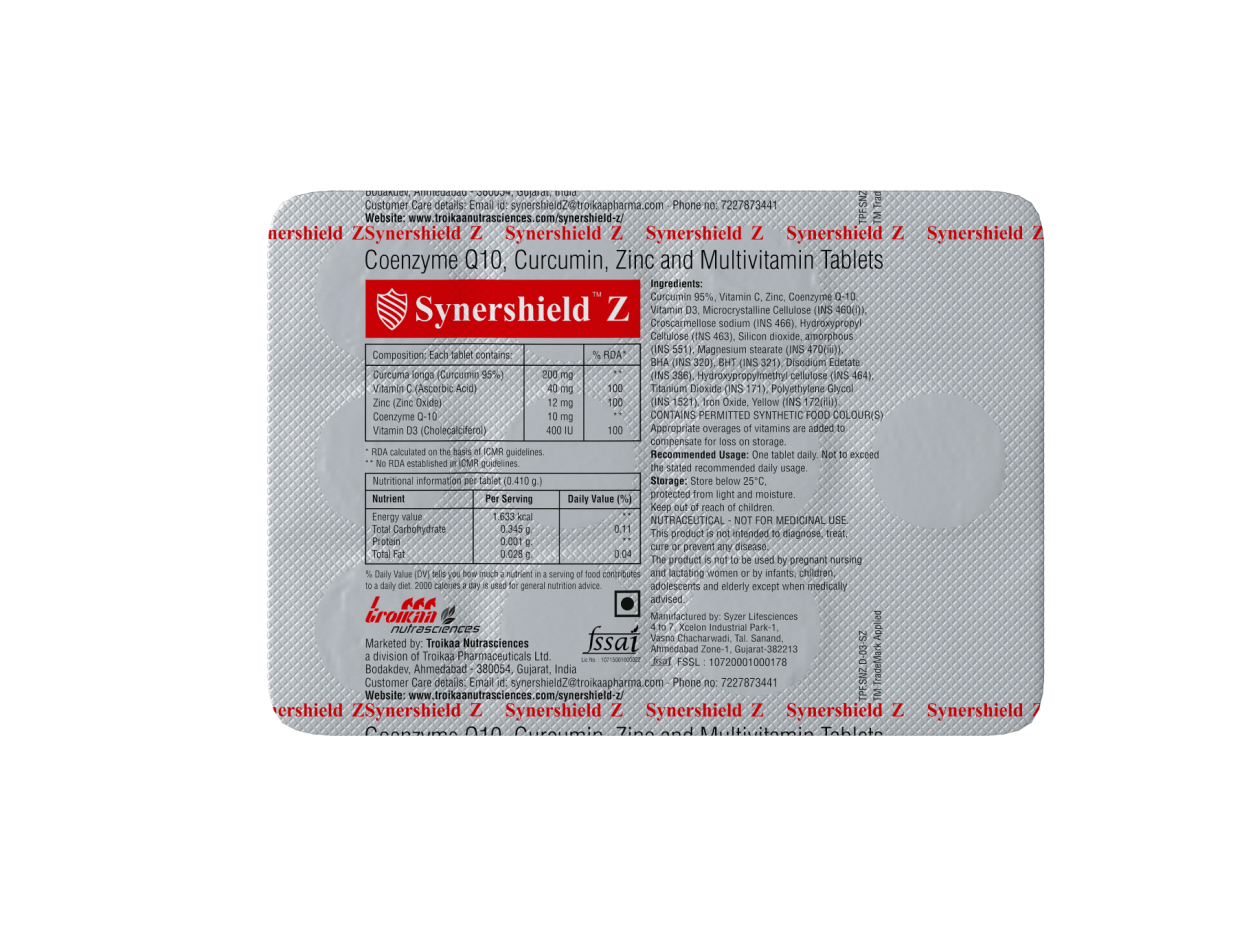 Each Tablet Contains:
Vitamin C 40 mg; Vitamin D3 400 IU;
Zinc 12 mg; Curcuma longa 200 mg; Coenzyme Q10 mg
Benefits of Synershield Z


Why Synershield Z?


STRONG RESEARCH
A scientifically and technically designed product, Synershield Z has a unique formula created by the R & D team of Troikaa Pharmaceuticals. The research drove results towards the powerful combination of Vitamin C, Curcumin, Coenzyme Q10, Zinc and Vitamin D3 to boost your immunity. All the ingredients are widely researched and have proven benefits.


HIGHLY EFFECTIVE
Each key ingredient is in the most potent form and has proven efficacy. For instance, Curcumin is 95% safe and pure, which is exclusive to Synershield Z. It is also is the only product which gives the synergy of 3 antioxidants in one tablet. This combination gives a much higher immunity in comparison to taking one antioxidant to build immunity.


BOOSTS IMMUNITY & LUNG FUNCTIONALITY
The scavenging properties of 3 antioxidants along with Zinc and Vitamin D3 combine to effectively strengthen the immune system to combat infections, harmlessly fight free radicals, and strengthen the lung functionality to reduce risk of respiratory ailments.


MAINTAINS HEALTH
Vitamin C and Zinc are two essential micronutrients that play an important functional role in the maintenance of health and immunity systems.


CONVENIENT DOSAGE
The formula and combination of Synershield Z are designed for a convenient dosage to provide several benefits in one tablet.


POWERFUL ANTIOXIDANT
The power and strength of an Antioxidant product is measured with a value which is Known as ORAC(Oxygen Radical Absorbance Capacity). It is the unit which measures the antioxidant capability of a product or ingredient.. Higher the ORAC value, more powerful is the Antioxidant. Synershield Z has ORAC value 3600 which is high ORAC Value for recommended daily intake of an Antioxidant
Note: Nutritional supplements are consumed for overall health and for managing health conditions. Scientific evidence indicates that supplementation with antioxidants and nutrients will help boost your immunity.
Buy Now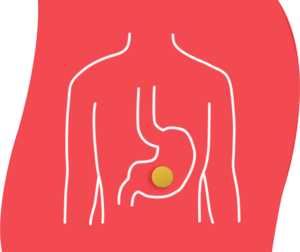 Dosage
One tablet daily or as recommended by the nutritionist, with water.