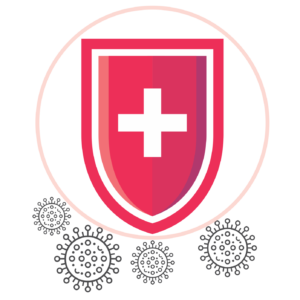 Curcumin + Vit B12 + Vit D + Vit C + Zinc (Immushield Z Tablets)
With no preventive and curative medicine available for COVID-19 as of now, a healthy immune system is the most important weapon to shield human being against this deadly viral infection.
IMMUSHIELD Z has been scientifically formulated combination of immune boosters which provides an immunity shield against any kind of viral and bacterial infections. All the antioxidants, Vitamins and micronutrients  used in the IMMUSHIELD Z have proven effect on enhancing the immunity and the same has been well documented in many clinical trials published in the journal of international repute.
IMMUSHILED Z : Synergistic Combination of Immune Boosters which Provides an Immunity Shield Against Deadly Infections
Curcumin: It is a powerful wide acting natural immune booster. It plays an inhibitory role against infection of numerous viruses by direct interference of viral replication machinery or suppression of cellular signalling pathways essential for viral replication
Vitamin B12: Enhances immune cell functions
Vitamin D: Plays vital role in modulating both innate and adaptive immune responses
Vitamin C: An essential antioxidant and a natural immune booster which helps prevent respiratory and systemic infections
Zinc: Reduces the risk, severity, and duration of infectious diseases
Composition:
Each tablet contains:
| | |
| --- | --- |
| Curcumin | 250 mg |
| Vitamin B12 | 500 mcg |
| Vitamin D | 400 IU (10 mcg) |
| Vitamin C | 100 mg |
| Zinc | 12 mg |
Direction for use:
One tablet once a day as a dietary supplement or as recommended by your healthcare provider